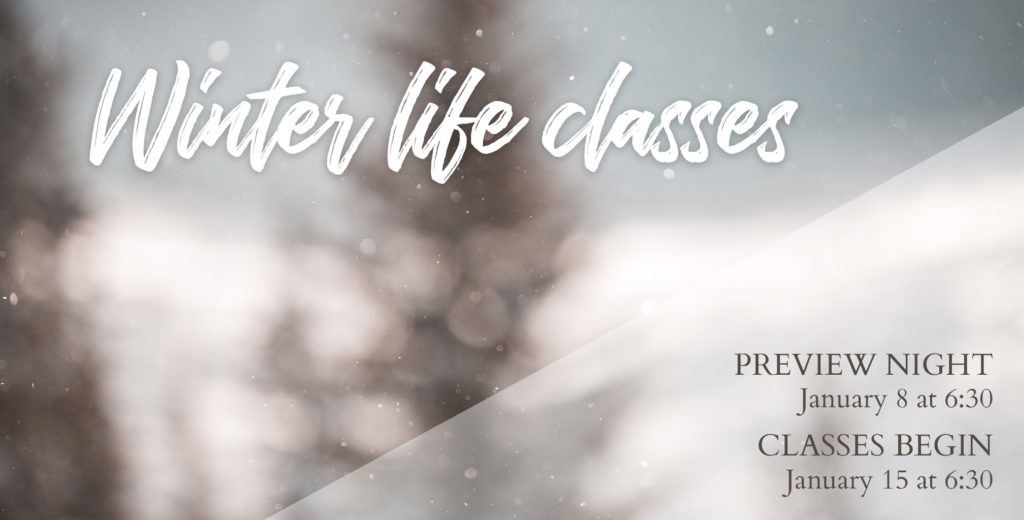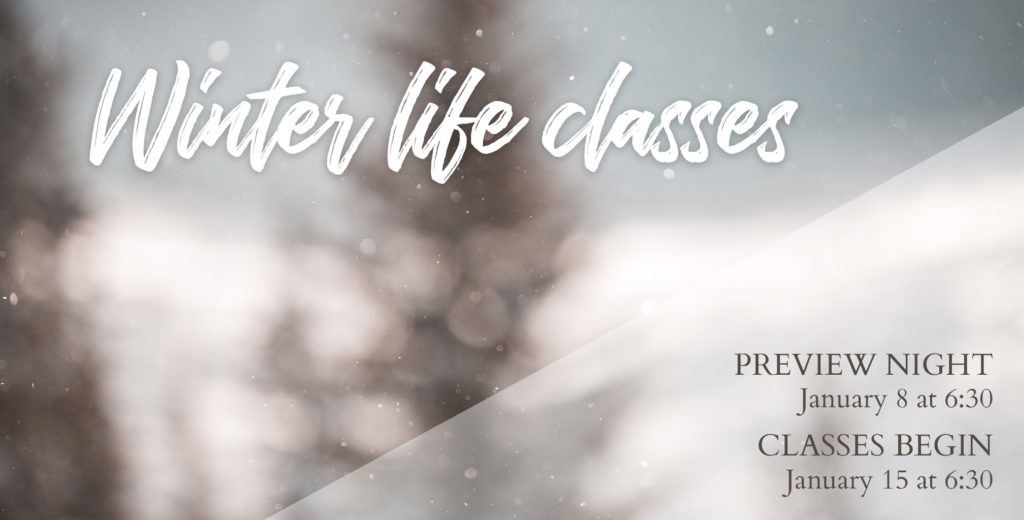 Classes Begin // January 15 at 6:30
Life classes are Christ-centered, curriculum-based classes that cater to current needs or challenges that life brings our way. These small group classes help strengthen areas where we need to grow and allow us to learn together what is God's best for us in various areas of our lives.
The following are the classes offered during the winter term. Most classes begin on Wednesday, January 15 unless otherwise notated.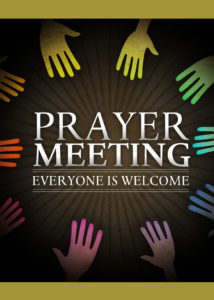 PRAYER MEETING
Leader: Justin McAlpin
Sessions: Unending
For: Everyone
Location: Worship Center
Begins: January 15 at 6:30pm
Join us as we intentionally immerse ourselves in praying for God's will for our church, our nation, our families, mission opportunities, our future, and so much more! This will be a time where we will put into practice the Lord's command when He said, "Their burnt offerings and sacrifices will be accepted on My altar; for My house will be called a house of prayer for all nations." Come pray with us!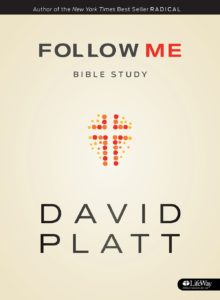 FOLLOW ME
Leader: Bobby Gardner
Sessions: 6
For: Everyone
Location: WC 215/216
Begins: January 15 at 6:30pm
What Did Jesus Really Mean When He Said 'Follow Me'?
David Platt answers this question by taking you on a journey to see that the invitation to follow Him is an invitation to a relationship. It's a relationship marked by self-denial, personal intimacy, single-minded ambition, and ultimate joy. In following Him, you will find the purpose you were created for which is to bring glory to God by sharing the gospel and to make disciples who make disciples.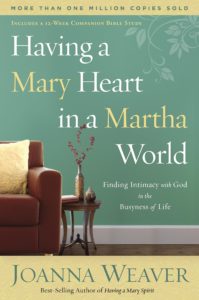 HAVING A MARY HEART
IN A MARTHA WORLD
Leader: Amanda McAlpin
Sessions: 10
For: Women
Location: WC 210/211
Begins: January 15 at 6:30pm
An invitation for every woman who feels she isn't godly enough … isn't loving enough … isn't doing enough…
The life of a woman today isn't really all that different from that of Mary and Martha in the New Testament. Like Mary, you long to sit at the Lord's feet…but the daily demands of a busy world just won't leave you alone. Like Martha, you love Jesus and really want to serve him…yet you struggle with weariness, resentment, and feelings of inadequacy.With her fresh approach to the familiar Bible story, Joanna Weaver shows how all of us — Marys and Marthas alike — can draw closer to our Lord: deepening our devotion, strengthening our service, and doing both with less stress and greater joy.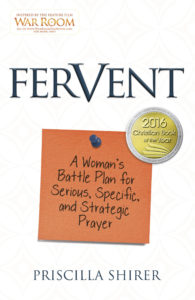 FERVENT
Leader: Sarah Welborn
Sessions: 12
For: Ladies
Location: WC 202/203
Begins: January 15 at 6:30pm
. . . and he's dead set on destroying all you hold dear and keeping you from experiencing abundant life in Christ. What's more, his approach to disrupting your life and discrediting your faith isn't general or generic, not a one-size-fits-all. It's specific. Personalized. Targeted. And this book, the battle plan, is your chance to fight back. With a weapon that really works. With prayer.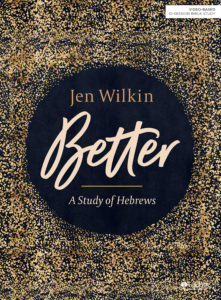 BETTER: A STUDY OF HEBREWS
Leader: Wendi Busing
Sessions: 10
For: Women
Location: WC 217
Begins: January 15 at 6:30pm
Jesus is better.
In this 10-session, verse-by-verse study of the Book of Hebrews, Jen Wilkin explores how God "provided something better for us" in the person of Jesus Christ (Heb. 11:40).
Through stories of Old Testament heroes and practices, the author of Hebrews demonstrates how the new covenant is superior to the old and how Jesus Christ is the fulfillment of every promise. Explore familiar verses in context of the entire Bible, learning how to place your hope and faith in Christ alone.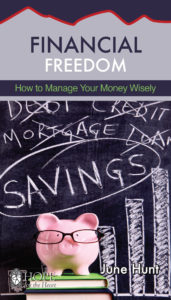 FINANCIAL FREEDOM
Leader: Dr. Michael Johnson
Sessions: 7
For: Everyone
Location: WC 204/205
Begins: January 15 at 6:30pm
This seven part study will seek to explore the wise management of money from a Godly perspective. There are many financial myths that we will discuss and using the Bible we will seek God's truth in discarding these myths. We will look at the causes of financial bondage including the problem of materialism that is rampant in American society today. Some of the solutions presented can lead to life altering transformations in your financial life. The final sessions will focus on exploring five core principles on managing money using a question and answer format.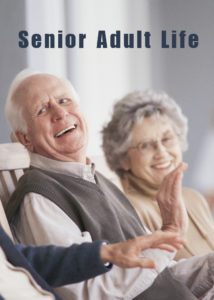 Leader: Julie Buckley
Sessions: 6
For: Senior Adults
Location: WC 207/208
Begins: January 15 at 6:30pm
Senior Adults face challenges that if they know options regarding them, would make life easier.
These Wednesday night Life classes provides seniors, and those helping seniors, with vital information in these areas of concern. Housing options, Hospice Services, Hospital Decisions, Community Helps—both services to use and how to be a volunteer, Financial Planning using Alabama Baptist Foundation, and Caregiving Information and Helps for those needing caregivers, and those who are in the Caregiving positions.

For 6 weeks, one of these topics will be discussed and vital information given by those who are involved in these services. Session topics and dates will be announced in the bulletin.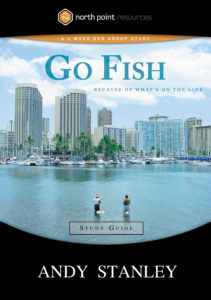 GO FISH
Leader: Charles Kitchens & Brad King
Sessions: 6
For: Men
Location: Refuge
Begins: January 14 at 5:30pm
***Tuesday Class
Fishing stories. We've all heard them. "It was this big." "You should have seen the one that got away." People love to tell stories of their fishing adventures. When it comes to faith, however, most people clam up. Why can't we talk about what God has done in our lives as naturally as we can spin fishing tales.
In this 6-part series, Andy Stanley explores the motivation behind sharing your faith and how it can become a natural part of your life.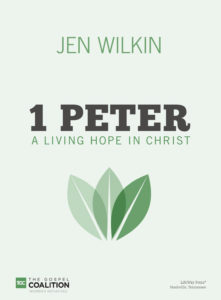 1 PETER: A LIVING HOPE IN CHRIST
Leader: Judy Hughes
Sessions: 9
For: Women
Location: Fellowship Hall
Begins: January 14 at 9:30am
•••Tuesday Class
Our inheritance through Christ is imperishable, undefiled, and unfading. In 1 Peter, a man of faith and flaws and eyewitness to the life of Christ challenges us to look beyond our current circumstances to a future inheritance. He shares his concerns on big picture issues for the early church, describes believers' true identity in Christ, and ultimately helps readers discover what it means to experience the Living Hope they have in Christ. Key themes of humility, submission, and identity in Christ guide the study of 1 Peter as participants are challenged to read the book in its entirety each week.
For more information about Life Classes, please contact Johnny Padalino at johnny@westmeadebaptist.org.
---