Saturday, September 21 // Point Mallard Golf Course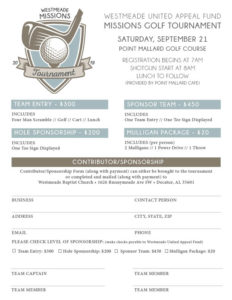 Print this form, fill it out and either bring it (along with payment) to the tournament or mail it (along with payment) to Westmeade Baptist Church: 1626 Runnymeade Avenue, SW • Decatur, AL • 35603
Prizes will be awarded for Longest Drive, Closest to Pin along with Door Prizes.
DONATION OF PRIZES
Any type of cash or merchandise is a unique opportunity to help local missions while advertising
your business. For information on how to donate, please contact Westmeade Baptist Church at
256-353-8239 or office@westmeadebaptist.org.
WESTMEADE UNITED APPEAL FUND
The Westmeade United Appeal Fund was established for the purpose of generating resources for
missions and ministry.
Through its Christian partners, countless lives are touched by the love of Christ. Ministries include:
The Morgan Baptist Association (The Caring Place, which provides help for those who need food, clothes, cleaning supplies, furniture and other household items; Disaster Relief teams who provide
assistance to homeowners and volunteers during times of crisis such as a hurricane or tornado; and
English as a Second Language which provides a learning environment for those who wish to learn to speak English in addition to their native language. Resources also provide opportunities to do local and international missions through mission trips and local outreach on college campuses). Monies are also used to support local benevolence.
The United Appeal Fund retains absolutely no money for administration which allows 100 percent of all resources to be used for the purpose of making a difference in the lives of thousands of people each year. We are extremely grateful for your support through the Westmeade United Appeal Fund.
For more information about the golf tournament, please contact the church office at 255-353-8239 or office@westmeadebaptist.org.
---