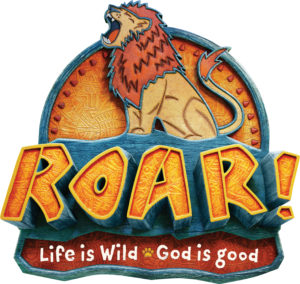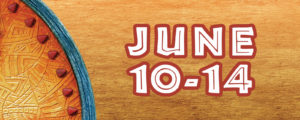 Send your kids on a ROARING adventure!
At Roar VBS, kids discover that even though life gets wild,
God is good
. Roar is filled with incredible Bible-learning experiences kids see, hear, touch, and even taste! Sciency-Fun Gizmos
, team-building games, cool Bible songs, and tasty treats are just a few of the standout activities that help faith grow into real life. (Since everything is hands-on, kids might get a little messy. Be sure to send them in play clothes and safe shoes.)
Plus, we'll help kids discover how to see evidence of God
in everyday life—something we call God Sightings. Get ready to hear that phrase a lot!
Your kids will also participate in a hands-on mission project, through a program called Operation Kid-to-Kid
, that will provide nutrition and good health opportunities to moms and babies in Zambia, Africa.
Join us for a daily exploration of our God's goodness!
So mark these dates on your calendar: June 10-14! The fun starts at 9:00am and will end at 12:00pm. Register your children (completed Kindergarten to 5th grade) for this life-changing adventure!
Adults! We Still Need Your Help!
We still have plenty of opportunities to serve at at our biggest VBS yet!!!
Areas to Volunteer include Rotations and Group Leaders.
Wild Bible Adventures, Imagination Station, Stampede Sports, Nursery and PreK areas, Skits, Music & Motions
Crew Leaders:
Act as "tour guides" to a specific age group and includes leading group discussions at KidVid Cinema
Decorating Volunteers Needed!
We need your help to transform our church into an African Savanna!! For those of you thinking, "I won't be any help because I'm not creative," you are wrong! We will have all of the designs and supplies in place around the church. We just need worker bees who can follow simple directions – no experience needed!
Please mark you calendars for the following work days. We will meet in the Upper Room unless otherwise directed.
Wednesday, May 22 @ 3:00 – 6:00
Tuesday, May 28 @ 1:00 – 4:00
Wednesday, May 29 @ 4:00 – 6:00
Thursday, May 30 @ 5:30 – 7:30
Monday, June 3 @ 5:30 – 7:30
Wednesday, June 5 @ 8:00 – 10:00pm

(High School Work Night – Adults also needed)
Thursday, June 6 … Time TBD
Friday, June 7 … Time TBD
Saturday, June 8 … Time TBD
Sunday, June 9 @ 2:00 – Finished!
For any questions regarding ROAR, please email Ben Tinley at ben@westmeadebaptist.org
Mission VBS at GraceLife Church
We need your help!! Join us as Westmeade partners with GraceLife Church to minister to the children and families in their neighborhood! This is a wonderful mission opportunity to serve in our very own community!
We will provide resources from our VBS (decorations, curriculum and workers) and partner with GraceLife Church (formerly Oak Park Baptist) to put on a fun and exciting VBS for the children in their neighborhood. We just need your help!!!
June 17-19 (Monday-Wednesday
1311 19th Avenue SE, Decatur