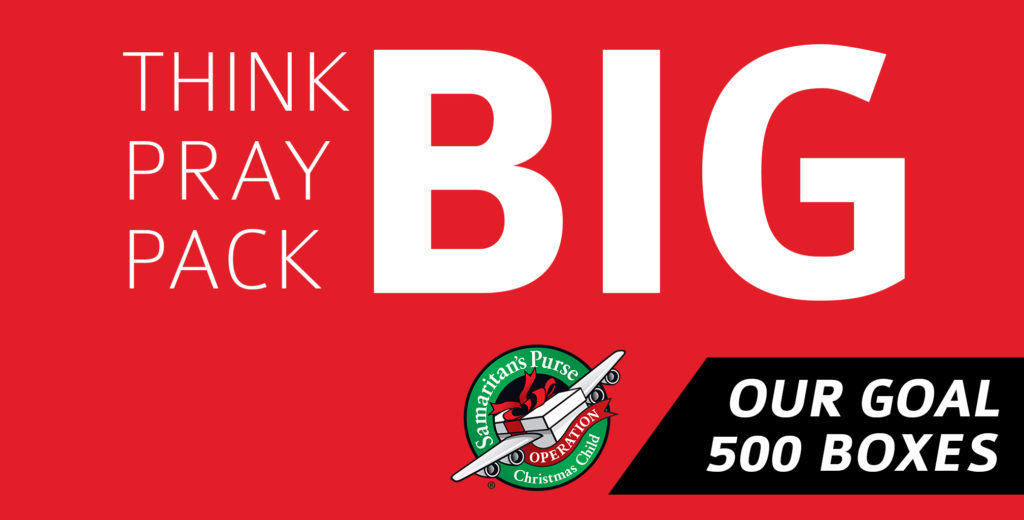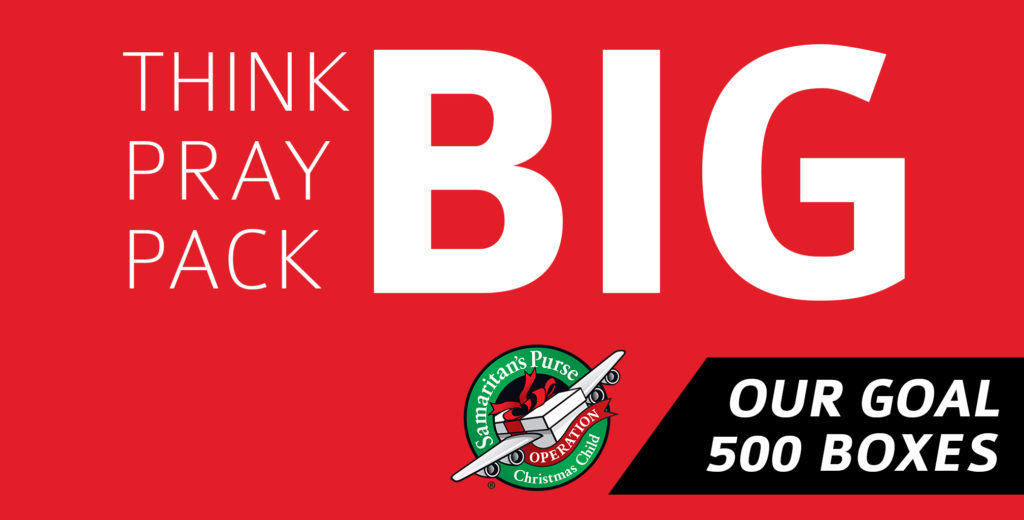 Shoeboxes Due// November 25
From children to senior adults, people pack shoebox gifts each year to bless children in need around the world. Parents often use the project to teach their kids about giving. Churches, like ours, and other groups of people collect boxes the third week of November each year. This year, our deadline for drop off is Sunday, November 24. Our boxes will then be taken to Central Park Baptist Church, which is our local drop-off location. These boxes are then taken to a processing center where thousands of volunteers inspect and prepare shoeboxes for international shipping. Every hour work stops for a few minutes to pray for the children who will receive the boxes.
Long before shoeboxes arrive in more than 100 countries, volunteer National Leadership Teams train pastors and community leaders who want to share the message of the Gospel and bless children. The leaders learn how to host child-friendly outreach events, and how to implement The Greatest Journey follow-up discipleship program.
Pastors around the world host outreach events in places where people may not know Christ and invite them to follow Him. Other churches use the boxes as resources for outreach in orphanages and other at-risk areas. In many places, they they also offer The Greatest Gift, a Gospel story booklet Samaritan's Purse developed for shoebox recipients in their own language.
As a result of what they learn in The Greatest Journey, boys and girls grow in Christ and share with friends and family. The students also invite others to their graduations where the Gospel is shared. This often brings parents, siblings and friends to accept Christ and become active members in the local church. Families are reached, churches grow, new churches are started and communities are transformed.
As you see, a shoebox is so much more than a box full of trinkets. It's a means to the Gospel. This year we are asking Westmeade to give more shoeboxes than ever before but we will easily surpass our goal of 500 if each family member donates a box. Also, we are encouraging everyone to purchase a plastic shoebox from your local dollar store instead of using a cardboard box. This way, the child can then use the box for food or water storage. One last thing, please consider paying for your $9 shipping online through the "Follow Your Box" link. This will allow you to find out what country your shoeboxes went. The Westmeade staff will then create a map of all the different countries our church family blessed.
Here are some important resources for packing and shipping your shoeboxes:
---